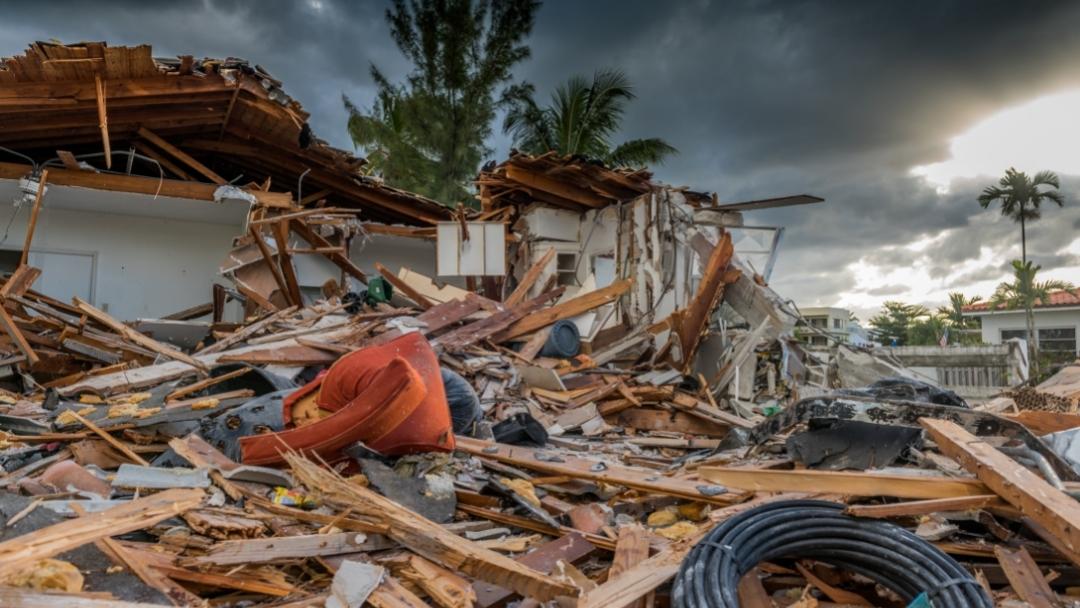 Does homeowners insurance cover damage caused by hurricanes?
Last Wednesday, September 28, Ian, a category 4 hurricane made its way through the lands of Florida, leaving severe damage in its path in several cities, especially homes and buildings.
The strong gusts of wind and the torrential rains caused great floods that entered the interior of homes and vehicles, causing irreparable damage, which has led many people to question whether home insurance covers damage caused by hurricanes.
Cyclones are a part of life in Florida, so each year, as their season begins (June 1 to November 30 of each year), it is important to review the insurance policies of housing to prepare in case it affects your property.
For this reason, in today's post, we will talk about everything you need to know about coverage for damage caused to a home after a hurricane. In this sense, we will explain what are the damages caused by a hurricane and what is the home insurance coverage against these cyclones.
What damage do hurricanes cause
Knowing the damage caused by hurricanes is essential to be informed when hiring a home insurance policy. For this, it is important to note that not all hurricanes cause the same damage, since this depends, to a large extent, on the speeds that their winds reach.
In general terms, the effects associated with hurricanes are: strong winds, torrential rains and floods. According to the category of the cyclone, it will be the intensity of destruction.
High winds, precipitation and flooding
The winds associated with hurricanes are often devastating, especially when they hit the city directly. Based on the speed and the destructive force with which it moves, it will be the hierarchy of the cyclone.
Thus, if the winds are between 120 and 150 mph, it is considered a category 1 hurricane, which can cause some material damage, but not serious. When gusts range between 155 and 175 mph, it is considered a category 2 cyclone, and doors, windows, and roofs are at some risk of breaking.
At the moment when winds with a speed between 180 and 210 miles/h are registered, you are facing a category 3 hurricane, where the structures of the houses are in danger. Here mobile homes can suffer total destruction.
A category 4 hurricane is characterized by wind gusts that can reach 250 miles/h and cause much more serious damage, such as flooding inside homes, falling trees, and detachment of roof tiles. In this category we place Hurricane Ian, where the speed of its gusts reached 250 miles/h and placed it on the edge of the last category, the most catastrophic.
Finally, when the winds exceed 250 miles/h they are considered category 5, the most destructive and catastrophic, including the total destruction of homes and buildings.
In the case of rainfall, a hurricane can generate more than 150 mm of rain per day, which is enough to cause flooding, landslides and landslides
Hurricane home insurance coverage
Now that the damage that a hurricane can cause according to its category is known, it is time to talk about home insurance coverage against cyclones. Knowing this in advance is essential to be calm when hiring a policy, especially if you live in hurricane zones.
Standard housing coverage provides insurance for damage caused by these weather phenomena, but you must be informed about the exceptions with aspects that are not covered.
Home insurance
As we have specified, home insurance covers certain expenses for damage caused by hurricanes, but there are certain items that are not included in the policy and must be known in advance.
In general, these contracts offer economic protection for damage to the structure of the home, personal property, in cases of displacement of land and breakage of roofs and sheds.
But here it should be noted that most of these insurances do not cover damage caused by floods and the damage that this entails. In this way, if the contracted insurance does not include this damage, it is best to contact the insurance company or a professional who advises you. With this information that we provide you in today's post, you can consult with Mario Serralta, an attorney with a great track record and specialization in property damage.
If you need a Hurricane Ian damage attorney in Florida, call Mario.